Wade Live!
When looking online for corporate entertainers there are a few things to look for. Does the corporate entertainer have a clean and appropriate show for your company?
Hiring a corporate entertainer for your event can be an overwhelming task. The question is: Who do you hire? Let's make it clear from the start. If you hire the RIGHT corporate entertainer for your event, everyone will say you're a genius. However, if you hire the WRONG entertainer, the event will be a total flop! So the decision to HIRE the right entertainer for your corporate event, no matter what it is, is truly an important decision.
Corporate magician, speaker, and emcee for over 15 years, Wade has proven to be a "must have" choice for corporate events and organizations around the country. Using his quick wit, interactive magic, inspirational principles, and a playful spirit to connect with his audience.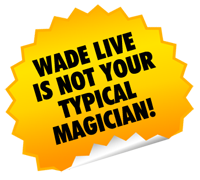 Wade Live is one of the most sought after corporate entertainers in the country today. At only 27 years of age, Wade has toured across the world performing his unique blend of hilarious hijinx, gut busting comedy, magic and illusion for corporate events all over the country!
He provides a dynamite show that audiences talk about long after the show is over! Using a combination of music, live animals, comedy and theatrics that will leave you breathless, Wade Live is second to none!
Exciting and unique are two words used in describing the comedy magic of Wade Live! The magic and comedy show provides a "real show atmosphere" tailored to venue and audience size!
The show features 45 to 60 minutes worth of hilarious comedy, mind-blowing magic, tons of audience participation, musical intro and a musical finale! The show setup also contains a professional custom-sized stage area, sound system, wireless microphones and professional aesthetics. This magic and comedy show has it all covered! Wade Live is your number one choice for high-energy professional entertainment!
With a variety of shows ranging from close-up and sleight of hand to large stage productions, Wade Live will astound, mystify and thoroughly entertain your audience.
To book Wade Live for your corporate event please fill out our easy to use form by CLICKING HERE!