Q and A!
Q. What advice do you have for a customer looking for a provider such as yourself?
A. Every event is different. Each show is tailored to meet the needs and requirements for your event. I've performed my show for dozens of corporations and businesses and know exactly how to entertain an audience. Everyone loves to watch and be entertained by a great magician. It's one of the few forms of entertainment that people of all ages, nationalities, and backgrounds can equally enjoy. I've performed for thousands and thousands of people over the years, and I've never met anyone who wasn't fascinated and amazed by watching sleight-of-hand and comedy magic!
Q. Why does your work stand out from the others who do what you do?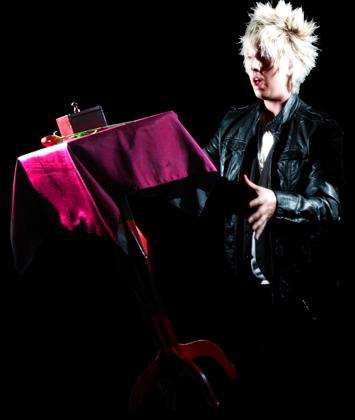 A. I'm trained in many forms in the magical arts. I've studied sleight of hand, stage and theater at the prestigious Chavez College of Manual Dexterity and Prestidigitation in La Verne, CA under the instruction of Dale Salwak. Having the proper training in this business is key to having a quality show. Too many call themselves a "magician" without the proper training.
Q. Why do you enjoy your job?
A. I love my job, which is something many more people would appreciate. I am blessed to be able to do both at once – something I love and something that pays well.
Q. What is your greatest strength?
A. I would say my great strength is going on and above what the client would expect. I pride myself on my customer service skills and my ability to resolve what could be difficult situations.