ATTENTION STUDENTS ACTIVITIES BOARD!
WARNING!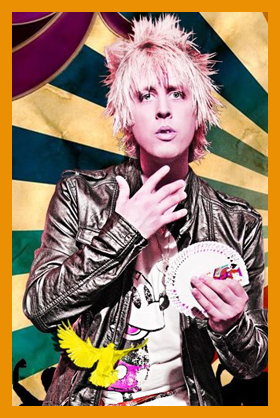 The college Show contains a variety of insane magic, hilarious comedy & dangerous stunts. It is strongly recommended to watch the show with EXTREME CAUTION!
Side effects may include: Sour stomach, dizziness & short loss of breath. A small case of "laughing your face off" may occur during performance.
You could describe college magician Wade Live, in two words. Out of his mind and highly contagious! OK that was 7 words… The show is definitely not your "typical" magic show!
Wade is able to connect to his audience using a combination of comedy and theatrics that will leave your students wanting more.
Whether Wade is making neon colored doves appear out of thin air, or catching a signed paintball in his teeth, he guarantees you a show you will never forget! This finely tuned 45 - 60 min show will work in almost any situation and performing venue!
Wade Live is an absolute hit with colleges all over the country.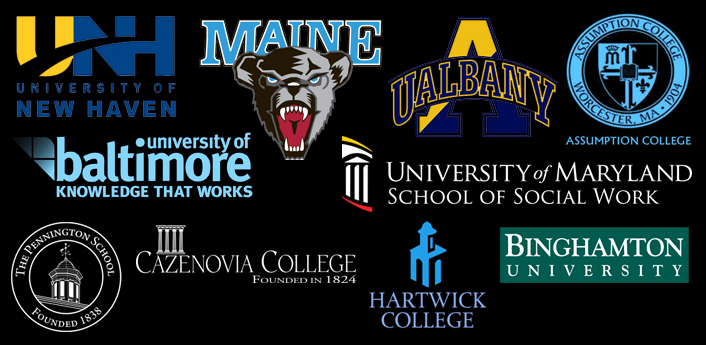 Perfect for: Family Weekends – Sib Weekends - Campus activities
Show facts:
1. The Wade Live show is unique and Wade has the only mind reading yellow chicken in the college market today! YES, you heard right a mind reading magical chicken! This is NOT your typical magic show!
2. The show features 45 to 60 minutes worth of hilarious comedy, mind-blowing magic, tons of audience participation, musical intro and a musical finale!
3. The show setup contains a professional custom-sized stage curtain, sound system, wireless microphones and professional aesthetics. This magic and comedy show has it all covered! Wade Live is your number one choice for high-energy professional college campus entertainment!
But don't take our word for it, see what others are saying about The Wade Live Show!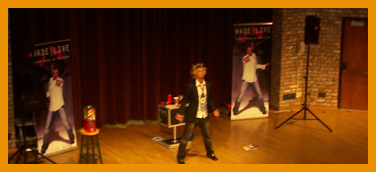 "Magic is COOL again!"
- Albany State
"Innovative, Fast Paced and Captivating"
- Hartwick College
"Dynamic and Highly Contagious!"
-University of Baltimore
Searching for a comedy magician in the college market can be a dauntful task for any student activities board. The vairiety and mear number of performers is staggering!
Wade made a promise to himself and his clients, that he will produce a show that is like no other. A show that will have your audience laughing in their seats and wanting more. Wade believes that is show will be such a hit and fun for your audience, he offers a 100% money back guarantee! That's right! If you feel the show did not live up to your expectations and your audience agrees... Wade will refund you the cost of the show!
Simple as that! How can you refuse such an offer?!
Do the right thing! Fill out the simple to use booking form by CLICKING HERE!